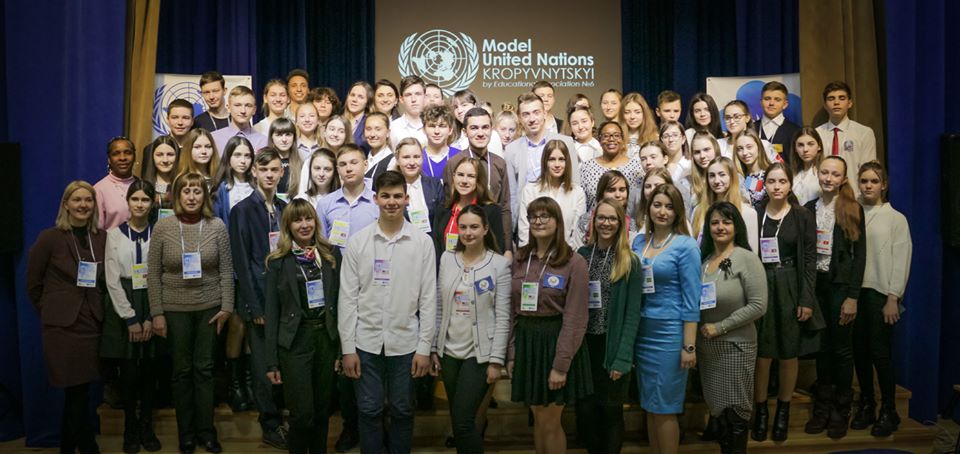 Within the project "Development of competences for democratic citizenship through formal, non-formal and informal learning" an active exchange of experience and training of representatives of formal education - teachers, school administration, regarding the approaches and methods used in non-formal education was happening. Many of the ideas that were created during the program activities were implemented as projects in various schools.
For example, at the Kropyvnytskyi school No 6, a simulation of the work of the UN was carried out, in English. This was done in order to deepen understanding of the principles of UN functioning, to use the foreign language skills in practice, to teach young people about diplomatic actions and about global politics. Preparation for the simulation also helped to develop communication skills of school students: the ability to listen and to be heard, the ability to find consensus and to present one's position.
At Chernivtsi School No 38, after creative workshops organized within this project, teachers really started to be into designing their own learning activities for the development of civic competencies, with a particular focus on math and science.
School No 13 in Sloviansk organized a quest on issues of human rights and democracy for its students. Everyone enjoyed this event so much that it was decided to try to organzie the next quest at the city level.
At Kharkiv School No 80 teachers were so inspired by the new approaches to assessment that they developed a system of digital badges for the subject "Civic Education" and thus gamified this subject for the students.
These are just a few examples of how to make the lives of students and teachers more interesting through the use of non-formal education approaches. Gamification, interactive methods - all this is not only better suited to work with modern youth, but also is in line with the reform of Ukrainian secondary education. Welcome aboard!